The 2019 Bellevue City Amateur will be held on August 10th & 11th. Check back soon to register, and email us at troldvold@premiergc.com if you have any questions.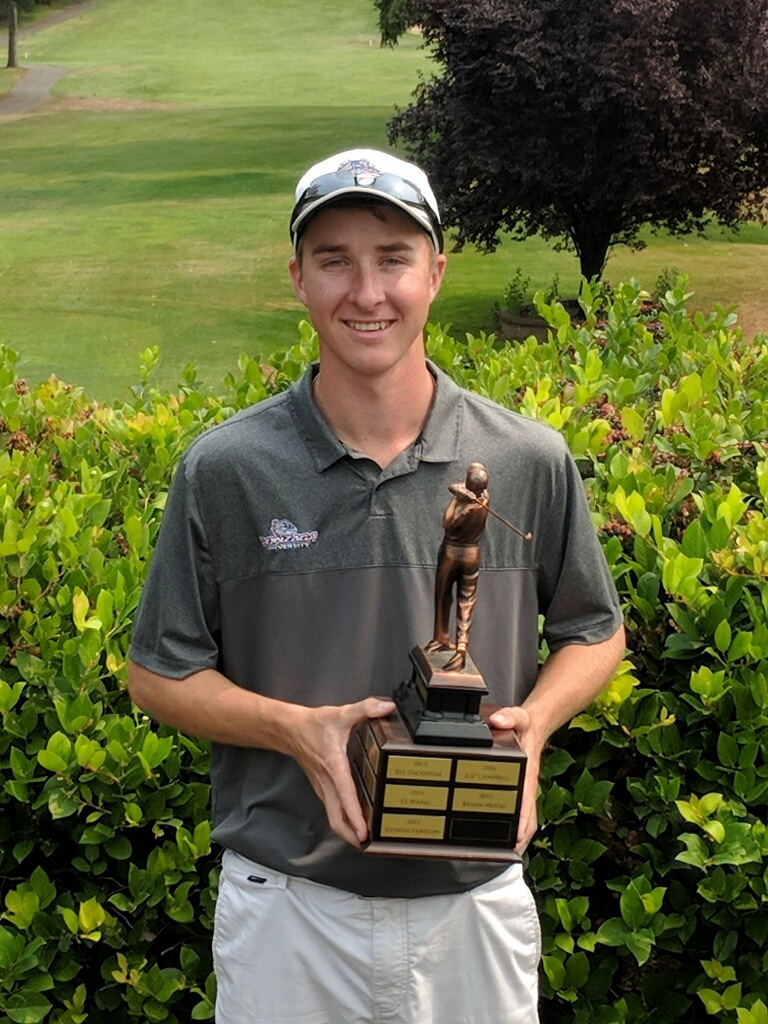 2018 Bellevue City Am Final Results
2018 Bellevue City Am Payouts
Thank you to everyone that participated in the 2018 Bellevue City Amateur.
Congratulations to our champion, from Gonzaga University, Chris Mogg.
Mogg shot rounds of 69-65, for an 8-under total of 134. Along with Mogg, first round leader Kris Jackson (68) and Jack Strickland (70) made up the day's final group, and they put on a show, combining to shoot 15-under as a threesome. Strickland matched Mogg with a 65 of his own, falling just one shot shy of the winning score. Jackson, our 2008 champion, followed up his 68 with another – it just wasn't quite enough to keep up with his playing partners. Overall, it was a phenomenal display of golf, with Strickland (-7, 135) and Jackson (-6, 136) finishing in second and third place, respectively.
We would also like to recognize the champions of the second and third flights. Congratulations to Dave King and Steve Marks (net totals of 136) on their first place tie in Flight Two, and congratulations to Mari Adad (net total of 132) for his victory in Flight Three.
The payout distribution and final results are attached to the email.
Traditionally held in June, we would like to thank you all for moving with us to the month of August. Moving the event later in the calendar allowed for improved course conditions and a higher probability of good weather. We would like to thank our golf course superintendent, Tom Robinson, along with his crew, for having the course in excellent shape. Thanks also go out to the entire Pro Shop Staff and Café Staff for making sure everyone had a good time.
Please remember that you are all responsible for posting your scores.
We hope you enjoyed the tournament, and we look forward to the continued growth of this event. Thank you for playing, and we'll see you for the 2019 Bellevue City Amateur.
_______________________________________________________________________________________
Saturday, August 11th and Sunday, August 12th
Eligibility: Open to all amateur golfers with a USGA handicap index of 25.0 or less
Format: Individual Stroke Play over 36 holes
Entry Fee: $125 (includes 2 rounds of tournament golf, prize fund, and range balls each day before round)
Entry Deadline: August 6th at 5pm (late entries will be accepted until August 9th only if space is available)
Starting Times: From 7:00 am to 12:00 pm each day, at 10-minute intervals
Practice Rounds: Practice rounds may be scheduled at any time prior to the tournament (applicable fees apply).
Performance Points: WSGA Performance Points will be awarded to the Champion (10pts) and Runner-up (5pts). Points are used to select Washington players for: Player of the Year, Hudson Cup, U.S. State Team Championship and the PNGA Cup.
Fine Print: There will be a Championship Division and two handicapped Flights with approximately 40 players in each flight. The championship flight purse will pay 75% Gross and 25% net. The 2nd & 3rd Flights will pay 75% Net and 25% Gross. The overall lowest Gross score will be the 2018 Bellevue City Amateur Champion.
The Championship and 2nd flight will play from the Championship tees, the 3rd flight will play from the Blue tees, and women will play from the white tees.
Pairings and tee times will be available on August 7th after 3pm. Times will be emailed, posted on our Facebook page and posted to our website - www.bellevuepgc.com.

Caddies are allowed and spectators are encouraged.
Distance finding devices will be allowed

All payouts are issued as merchandise credit to be used in the Bellevue Golf Course Pro Shop.

Any cancellations within 48 hours of the tournament will be non-refundable.

Questions? Contact Troy Rodvold - trodvold@premiergc.com or 425.452.7250 ext. 4